Lormik Promotions | Promotional Products and Apparel | Utah
We offer over 1 million promotional products for your business. We are a cost effective marketing resource for business owners and corporations.
• BEST PRICE
• BEST GUARANTEE
• LOCALLY OWNED/OPERATED
Please feel free to contact us direct for large scale projects.
Thank you and enjoy!
Popular Item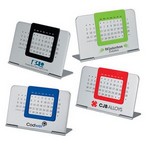 Perpetual Desk Calendar
Perpetual calendar with colorful slide that can be used year after year. Folds flat for shipping. 5 1/2" W x 3 1/2" H x 1/4" D
$1.52 - $2.40
What Our Customers Are Saying

My team is VERY happy with our pens. We just got them!!!! Thank you for your great customer service and work. We'll be sure keep you in mind for future projects.
Larry
MountainView Fellowship